Our brands
Golden Garden
IQF fruits and vegetables from Poland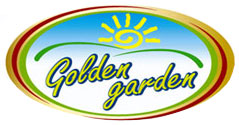 Since 2010 we sell frozen fruits and vegetables under our own brand "Golden Garden", packed in 1000g or 2500g bags, with which we took for target essentially the HORECA market.
In our Golden Garden packaging we offer fruits and vegetables packed solo, as well as fruit and vegetable mixes in almost any requested compositions.
In the future we plan to expand the range of bags, "Golden Garden" with smaller packs, depending on the needs of the retail market.